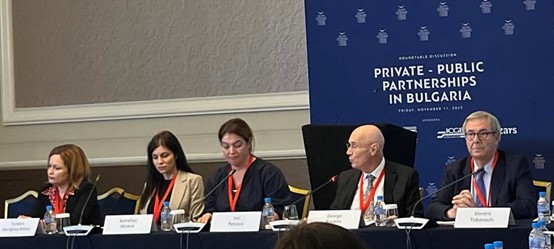 Delphi Economic Forum in Sofia (Bulgaria)
We are honored to share that our Managing Partner Dr. Dimitris Tsibanoulis was one of the distinguished panelists at a conference organized by Delphi Economic Forum in Sofia (Bulgaria) on Friday, November 17, 2023, on the subject of "Private-Public Partnerships in Bulgaria".
Dr. Tsibanoulis participated in the roundtable discussion titled: "The Concept of Energy Communities: The Greek Legal Framework as a Good Practice for Bulgaria". The panel was chaired by George Kremlis, Former Advisor to the Greek PM on Environment, Climate & Circular Economy. Iva Petrova, Deputy Minister of Energy - Republic of Bulgaria, made the opening remarks. Dr. Tsibanoulis presented the main characteristics of Renewable Energy Communities and Citizen Energy Communities under Greek Law 5037/2023 and stressed their importance to address energy poverty, promote energy sustainability, production, storage, self-consumption, distribution, and supply of energy. Greece's legal framework for Energy Communities stands as a testament to the nation's commitment to sustainable energy practices, community-driven initiatives, and alignment with broader European energy transition goals. Teodora Georgieva, Executive Officers – ICGB, and Kameliya Mineva, Member of the Management Board and Executive Director of ProCredit Bank, also participated as panelists in this roundtable.
You can see the full programme of the DEF Roundtable here
#DelphiEconomicForum #TsibanoulisandPartnersLawFirm #ConferenceAlert #PublicPrivatePartnerships #EnergyCommunities #LegalFrameworks #BulgariaEvent #RoundtableDiscussion