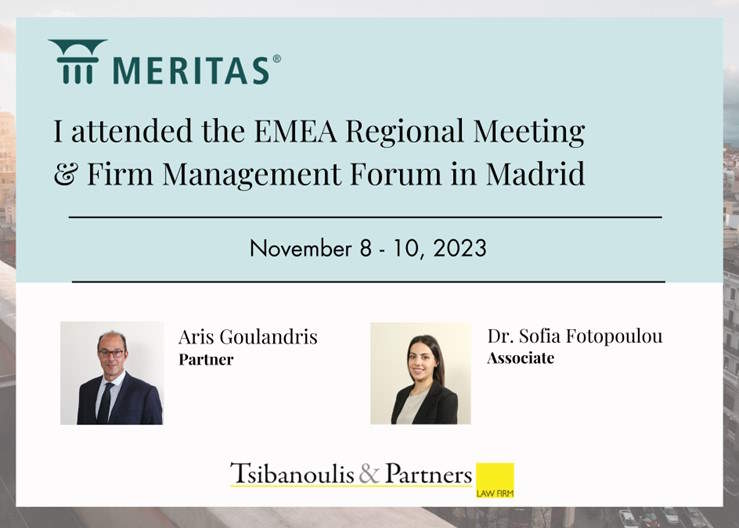 EMEA Regional Meeting
Tsibanoulis & Partners Law Firm is honored to be a member of Meritas Law Firms Worldwide, a distinguished global alliance of leading independent law firms committed to delivering unparalleled legal expertise on a worldwide scale. Our Firm's participation in this alliance underscores our unwavering dedication to maintaining the highest standards of excellence in legal services.

This year's EMEA Regional Meeting was held on November 8-10 in Madrid. Mr. Aristeidis Goulandris represented our Firm as a partner and Dr. SOFIA FOTOPOULOU - PhD as an emerging leader. Both actively engaged in discussions with peers from leading independent law firms across Europe about the future landscape of the legal profession; Together, they engaged in inspirational talks on the future of the legal profession and on legal practice matters, exchanged experiences on overcoming challenges of the legal profession, and leveraged our Firm's international knowledge pool for strategic advantages.

As we look ahead, we are excited about the prospect of deepening our relationships within the Meritas community and further contributing to the global legal landscape. Thanks to Marimón Abogados for orchestrating such a meaningful and impactful event.

Stay tuned for updates as we continue this journey of professional growth and collaboration.